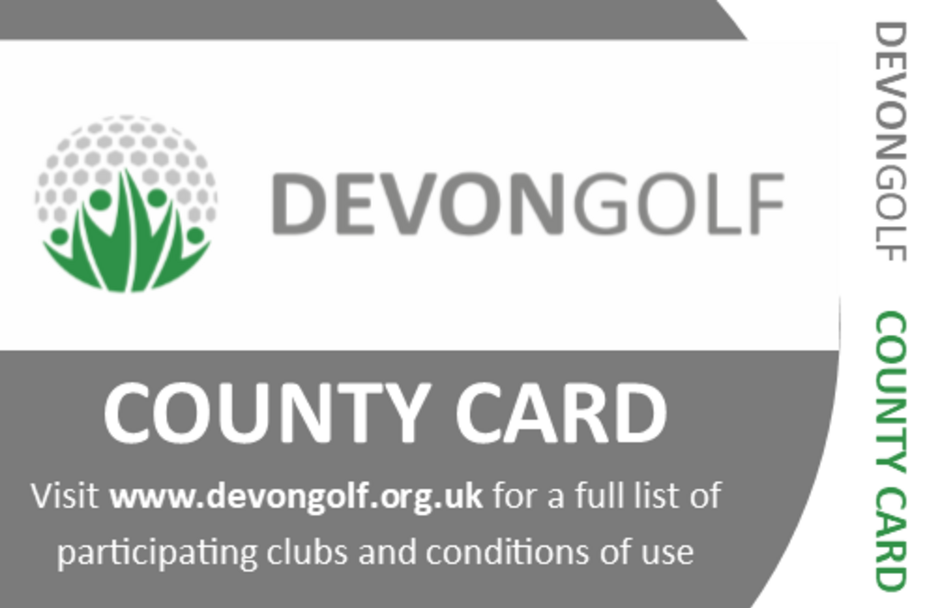 B ackground
DevonGolf is a member of the National County Card Scheme. The scheme exists to provide the opportunity for golfing members of affiliated clubs to play on over 1200 courses in England at a discounted green fee - subject to certain conditions.
The DevonGolf County Card is available to all members of affiliated clubs in Devon provided that they have a WHS Handicap Index.
Cards are available by online application ONLY. They are issued without charge and with the compliments of DevonGolf.
Paper County Cards (for those without a Smartphone or Tablet) are processed every Thursday and will be sent (by Email) to the Applicants Home Club for verification. They will normally be available for collection from that Club on the followiing Monday.

Digital County Cards are available immediately.

Rules & Conditions
1. The Card is not transferable.
2. You must make a tee-booking at least 24 hours in advance of the intended date of your visit.
3. Conditions of card acceptance may vary at each participating Club. Play is entirely at the discretion of the Host Club who may, at busy times, decline to accept County Cards.
4. The Card is not intended for use as part of a Society booking.
5. The Card Holder agrees to abide by these Rules & Conditions & also those of the Club being visited.
6. A County Card is available to Members (male or female) of clubs that are affiliated to DevonGolf provided they have a valid Members ID (formally CDH number) and a WHS handicap index.
7. A County Card is only valid during the period of time of your membership to a DevonGolf affiliated club. If you chose not to renew your membership within the calendar year of an issued County card the card cannot be used to receive a green fee discount.
Participating Clubs
A list of participating Clubs can be found by clicking on the appropriate County in the list shown herein.
Please note that whilst Royal North Devon Golf Club has opted out of the National Scheme, they still accept the DevonGolf County Card.